If you've had the pleasure of coming into our insurance agency, you've probably been greeted by Max, our office mascot. Max is a puggle rescue dog who was taken in by Chris and comes with him to the office. It's actually why our agency stands for "Adopt, Don't Shop." Max was given a second chance at life, and he brings a lot of joy to our agents and customers.
Max can be seen spending his days soaking up the sun, spreading happiness to everyone at the agency, or simply waiting patiently for someone to drop part of their lunch by accident.
He also does a great job of posing for our marketing team when they need him! In fact, if you follow Paradiso Insurance on Twitter or Instagram, Max is pretty popular on those social networks. Additionally, even though Max isn't a human and can't directly speak to us, he's still a vital part of the team here at Paradiso Insurance. Therefore, we thought it'd be appropriate to give him an interview to learn a bit more about what Max is really like.
What is your favorite quote?
My favorite quote is: "It's not the size of the dog in the fight, it's the size of the fight in the dog," by Mark Twain. It really speaks to me and my small puggle stature.
Who is Max outside of Paradiso Insurance?
Outside of Paradiso Insurance I'm still the same lovable dog at home. I'm just allowed to run around a bit more. I have to be quiet at the office!
What do you like to do with your free time in the evenings and/or on weekends?
I spend my free time sleeping, and I love to eat a lot.
What is your favorite joke?
My favorite joke goes like this:
Knock, Knock!
Who's there?
Bow!
Bow who?
Not bow who, bow wow!
What are your favorite hobbies and/or past times?
My favorite hobbies and pastimes include sleeping in the sun, looking at other dogs that walk by, and seeing the kids when they get home from school. I wait all day to see them, and get so excited when I hear them come off the bus!
Your most recent vacation spot, and any activities you enjoyed while away?
I don't remember the fine details because it was many dog years ago. However, I did recently have a dream where I was running in a field of tennis balls. It was amazing!
Can you tell me a little bit about your family/home life? Pets? Kids? Etc.
I have a great loving family! My dad Chris provides me a place to play. My mom MaryAlice gives me a lot of love and attention when I need it. Oh, and she makes sure to pick me up from the office later in the day so, I can enjoy my time at home! Gianni and Mia walk me and spend time outside with me. I snuggle up with everyone, and I receive all the love in the world. I'm a very happy dog.
How has life for you changed since you started coming to Paradiso Insurance?
Not too much, I just get to sleep somewhere different. Plus, I do get to be with my work family almost every day. I make sure to greet every agent when they come in with a wagging tail. I love to see everybody. Oh, and my favorite part of the day is when Darlene takes me for a walk!
What are your skills, and what can you help our customers with when they stop in?
While I can't directly help you with your insurance needs (I mean I'm a dog), I can make all your troubles go away. I can greet you with a wagging tail and my best smile. I might even stop to take a selfie with you.
Is there anything else specifically that you'd like to include?
Bark, bark. They really hounded me to do this interview.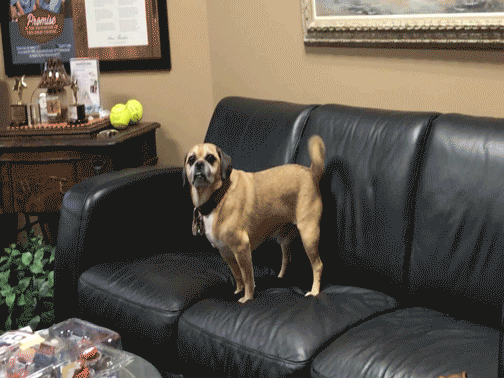 So, the next time you stop into Paradiso Insurance don't forget to say hello to Max!